Self-love Coaching in Berlin and Online
Imagine, you love yourself. Imagine, you are enough. Your heart feels warm and open when you think about yourself.
You are in a place of complete abundance. Your relationships appear to you as the reflection of your self-love.
You take full responsibility for yourself by making yourself the #1 priority in your life. You are now able to give the things to yourself that you used to rely on others for.
The base you have built inside of you is unshakeable. Your have found a home inside of you. Your are able to integrate unpleasant feelings and transform them. Your are in a place of total flow.
Love flows through every vein of your body and your mind is centered in here and now. You are living your full potential. Neither your past nor your comfort zone can hold you back anymore.
---
Self-love coaching helps you to:
Use your life-crisis in a transformative way
Dissolve deep inferiority complexes
Develop a loving and caring relationship with yourself
Embrace and love your inner child
Transform limiting beliefs
Accept and integrate unpleasant emotions
Develop new patterns of thinking and behaving
Increase your presence and consciousness
Rediscover the voice of your intuition
Make decisions from the bottom of your heart
Develop a positive access to the emotion anger
Increase your somatic intelligence
Fill the relationship with your body with deep love
---
How long does a coaching process take?
The duration of a coaching process can highly vary. It depends on the person, who is coached, as well as their current living situation. In coaching sessions rejected personality parts and suppressed emotions come to the surface and demand integration. Personal development needs some time and new patterns of thinking and behaving want to be tested in everyday life.
To accompany this process deeply and profoundly I offer my professional support.
I suggest every client, to take two or three sessions and then decide if they want to keep on working with me.

---
How to picture a coaching session with Malou?
Every coaching session is different depending on you and your needs.
Most of the time you come with a topic. A topic that is currently showing its face in your life or a topic that has been on your mind unsolved for a long time.
After a short guided meditation that helps you to arrive in the space and in your body, there is room for your topic. Everything that is important to you can be a topic. Maybe it is hard for you to love yourself in certain situations. Maybe you have been rejecting your inner child. Maybe you are stuck in some limiting beliefs. Maybe you have trouble finding your inner calling.
Basically every topic is related to you and your self-love.
Active and present I listen to you as long as you want to talk about your topic. When I feel that you are reaching an important place I ask some questions and dig deeper until we have reached the core of the topic.
This is the time where I invite you to try a suitable tool.
Maybe behind your topic is a belief about yourself that we will transform. Maybe we will develop a daily self-love routine for you to help you deepen the love for yourself. Maybe you need a tool to reparent your inner child.
Every session is very individual and I don´t always follow the same pattern.
For me it is important that our session is a space where you can be with what is alive inside of you.
With my empathy, my intuition and my expertise in the field of self-love and self-healing I support you to strengthen your own resources and to find yourself and your very own way in life.

---
Coaching in Berlin
Coaching sessions in Berlin are taking place in my coaching space in Neukölln.
---
Online-Coaching
All online-coaching sessions will take place via Skype.
---
Costs & Booking
A coaching session takes 60 minutes and costs 80 Euro.
To make an appointment send a mail to: malou@erliebe-dich.de, give me a call: 0157 34656299 or use the contact form below.
---
Booking a session
---
---
About
"I hug people I love. Do you?"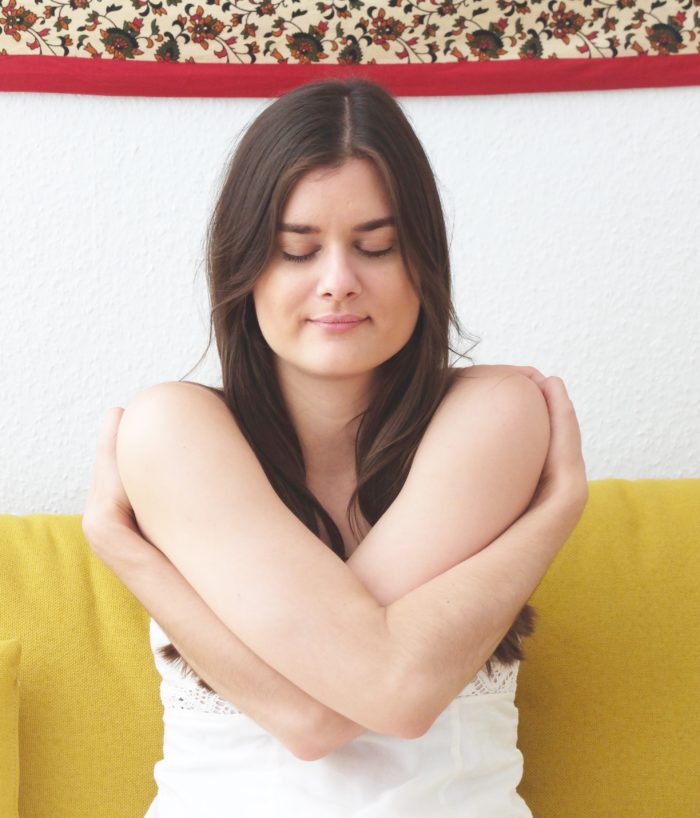 Hi, I am Malou.
The first two decades of my life, I have spent in a place of absolutely rejecting myself. Then anorexia tried their best to wake me up. A little bit later I began to understand what really was wrong with me: I did not love myself. I did not express myself. I was stuck in a place where I was only fulfilling expectations of others and society without even knowing who I really was and what I wanted my life to look like.
From this mind-blowing moment on I have put all my time and energy into one project: developing radical self-love.

I made the decision of total commitment to myself. I learned how to treat myself well, how to trust myself and how to love myself.

And my life totally turned around. I have built myself a life I didn´t even know I was dreaming about. I have learned how to let self-criticism and self-doubt go. I meditated a lot, chanted mantras, took part in amazingly healing rituals, developed awesome morning and evening routines and listened to wise teachers.

Apart from this I also gained a master´s degree in social and cultural psychology and I am trained as a spiritual counselor.

After years of counseling and developing myself, I decided at some point that the time has come to help others activate their inner coach. So this is what I have done in the past years: I have worked as a self-love coach in one-on-one sessions, workshops and online-courses.

My biggest dream is living in a world, where everyone loves themself. In this world most problems we are facing right now, would not exist as they are only symptoms of not loving ourselves enough or not unconditionally enough. With my work I support you to become a part of this new world. A place beyond belief.
"Everything you can imagine is real"


-Pablo Picasso